Elections are now over!
The next Elections will take place in March 2018
Who is able to run for an executive position?
Undergraduate science students (chemistry, biochemistry, biomedical sciences and biology)
Any year
What positions are available?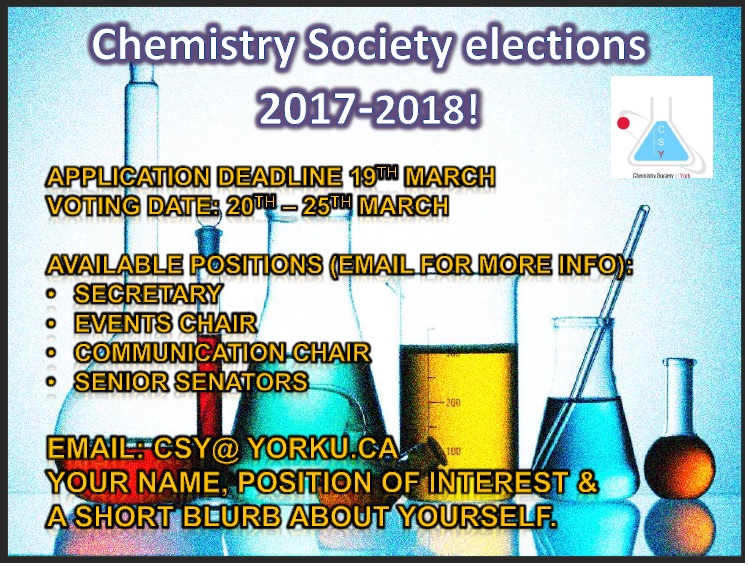 Vice-President (1): They work closely with the President in organizing future events. Must be a minimum one year exec member (minimum one year club executive experience).
Secretary (2): They work closely with the President & Vice-President in organizing future events. They will need to be extremely organized and have good time-management as they will be responsible for taking care of scheduling duties, taking down minutes of the meeting and also managing alumni related tasks.
Events Chair (1): This person will need to have good time-management skills as they will need to update the club's financial records every month or as per needed, collaborate with the executive committee to create and execute exciting, interesting events for the club constituency and also promote events.
Communications Chair (2-3): These people must be tech-savy, as they will be in charge of updating the clubs' social media resources (Facebook, Twitter, LinkedIn and the website through WordPress). They will also be in charge of designing posters and helping to publicize events.
Senior Senator

s

(2): They will be in charge with updating the membership log and office hours.
What are all club members responsible for?
Hold 2 office hours every week (where you sell tests, finish office work and interact with undergrad students)
Attend club meetings (we discuss future events)
Participate in all club events
Advertising club events
How do I apply for an executive position?
Send us email (csy@yorku.ca)

Name, major/minor, year, position of interest
Small blurb about yourself (150 words) which will be posted on our website and Facebook so that others may read it and vote accordingly (an example from our current vice-president is shown below)

You can run for 2 positions
Ruqaiya Qureshi, (Hons) Pharmaceutical Chemistry, Year 2, Senior Senator or Communication Chair
I took a seat back in my first year and did not participate in any clubs at York because I was intimidated by academic pressure. However, after achieving good grades and being a second year student has made me more confident. My past experiences of being a mentor in a science volunteer program, alongside volunteering in several other projects like Rebel (youth program) has equipped me with the skills of good time management and me multitasking. These two skills are the key to success in university. Additionally, I do not shy away from opportunities of public speaking. I would love to help out students struggling with time management issues and those who face difficulties when it comes to prioritizing things.
Contact Information
Email: csy@yorku.ca
Website: http://csy.club.yorku.ca/
Location: Chemistry Building Rm 206
Twitter: CSY_York
Facebook Group: @ChemistrySocietyatYork